26 July 2019
Vital Signs Focus Group
Wednesday 31st July @ 3pm
This year Community Action: MK is organising a focus group to support the community consultation programme as part of the Vital Signs 2019 project, which is run by MK Community Foundation. Anyone living, working or volunteering in Milton Keynes is welcome to come along.
The focus group will take place on Wednesday 31st July at 3pm at Acorn House, 351 Midsummer Blvd, MK9 3HP and will run for up to 1.5hours. Please register by completing this form online – once registered, we will contact you to confirm the details.
19th September: TRANSPARENCY AND TRUST: TRUSTEE CONFERENCE
Looking at why transparency and trust are critical to a charity's success, this half-day conference will give you expert input and practical ideas to strengthen your organisation.
You will learn how to boost trust levels through governance, board diversity and accountability, as well as participate in one of our expert-led interactive breakout sessions. If you are a trustee or committee member of a charity, voluntary or community group or a board member of a social enterprise, this conference will provide you with clear, take-away actions to apply to your organisation.
Find out more
Cyber Protection Awareness Workshops
We are helping the Thames Valley Police deliver two workshops dedicated to Cyber Security for voluntary and community groups. The Thames Valley Police Cyber Security Advisor will be providing two short Cyber Protect awareness sessions in October 2019 for Community Action: MK in order to empower their own local voluntary and community sector groups to speak with confidence within their immediate communities of the current cyber threats that the general public may experience.
Find out more
Station Square Public Consultation: Have your say
Milton Keynes Development Partnership (MKDP) would like to gather views on the potential redevelopment of Milton Keynes's Station Square to create a gateway to the city that responds to future growth. A link to their survey, consultation materials and a virtual tour of the Station Square Exhibition created for the MK Futures 2050 event can be found on the MKDP website.
The closing date for feedback is Sunday 4th August 2019.
Milton Keynes Council Open Consultations
See all MK Council consultations
MK Council Useful links and documents
Calendar of Forthcoming Meetings (DOCX, 64KB)
Reporting Issues to the Council Contact List (PDF, 63KB)
SWEP activated
MK Council team is out providing water, sun cream and hats to rough sleepers during this period of warm weather. Support is also available at Unity Park Station, Elder Gate until midday today.
If you spot anyone who may be in need of help, please encourage them to visit Unity Park Station, call 07985 188072 or email info@roughsleeperpartnership.co.uk.
Cyber security FAQ: why charities can't afford to ignore the risk from malware
The world of cyber crime can seem murky and mysterious – cyber criminals are, after all, a faceless threat and charities are focused on the here and now, running their day to day operations and making a difference. But weapons such as malware are indiscriminate, and anyone can be stung. That is why in this article we try to shed some light on the world of malware, with help from cyber security experts Avast. Read more
Getting the Basics Right – Tackling Fly Tipping
A 12 month campaign to tackle fly tipping will soon be launched as part of the MK Council Plan 2016-2022 Getting the Basics Right ("focusing on getting the basic services right, including waste collection, reducing littering and fly-tipping, improving landscaping and properly maintaining our highways by fixing more potholes and resurfacing more roads, pavements and redways"). Section 4.2 states "our getting the basics right commitment" we will: Reduce fly tipping by 50% on the most affected estates by April 2020. However, due to the way in which we collect data around fly tipped rubbish, the target will be to reduce fly-tipping by 50% on the top 50 fly tipping hot spots in MK.
Milton Keynes Arts Centre: Booking Now Open for Autumn Term of Creative Learning Courses
10 weeks from September 2019
Booking now open
Milton Keynes Arts Centre's Autumn Creative Courses are now open for booking. Join our growing community of Creative Learners with our 10-week courses, allowing students of all abilities to work with experienced tutors to develop their skills in a range of disciplines.
Fierce Mind Health: Mental Health and Wellbeing Education and Training
"I am a Time to Change champion for Mental Health and accredited Mental Health First Aider. I have extensive experience in delivering high quality training, education, and coaching sessions in Mental Health, Wellbeing and Sexual Health to private, voluntary and professional organisations". Fierce Mind offer a range of programmes in order to suit the individual needs of your organisation. Fierce Mind Health can also offer bespoke packages, please feel free get in touch to discuss.
Volunteering opportunity of the week: Bricklayer for Buckingham Canal Society
Individuals with bricklaying skills are needed to help re-build a spill weir on the disused Buckingham Canal. Volunteers will also be expected to support the rest of the group. Volunteers need to wear a hard hat which is supplied. Experienced bricklayer required. Find out more
Volunteers wanted for Intu Green Gym
Outreach Case Worker (Full Time) Citizens Advice
We are looking for an enthusiastic, reliable and confident person to join our Casework Team. The ideal candidate will provide face to face advice and support to local people, including those living in the community who could be considered 'vulnerable adults'. The Outreach Caseworker will assist clients with complex welfare, debt and housing enquiries, covering issues across each subject. This requires a good foundation knowledge of each advice area, so competence in these subjects is essential.
Find out more
United Way UK are very pleased to announce the launch of our 2019 'Give Local' grants! Applications are now open and charities are encouraged to apply.
These grants are aimed to support small charities delivering services in their local communities. United Way UK is particularly interested in supporting organisations whose work addresses our priority areas of health, education and income and those that support disadvantaged people. More information and applications can be found here: http://www.unitedway.org.uk/grants
Max. Value: £ 20,000
Deadline: 28 Jul 2019
Grants are available for small to medium-sized charities registered and working in the UK that defend human rights and promote respect for vulnerable individuals in the UK.
Max. Value: Discretionary
Deadline: 28 Jul 2019
Funding for public bodies, non-government organisations, community groups, charities, individuals and private companies, to support the planting and establishment of large and small trees in urban and peri-urban areas of England.
Max. Value: £ 100,000
Deadline: 29 Jul 2019
Grants are available for charities and social enterprises in England to help fund development costs of projects that will create alternative uses for redundant or underused, community-owned historic buildings in town centres
Max. Value: £ 3,000
Deadline: 29 Jul 2019
Grants are available to public sector bodies, registered charities and other not-for-profit organisations in the UK to help analyse collections, supporting development of future plans for cataloguing priorities and projects.
Max. Value: Discretionary
Deadline: 30 Jul 2019
A combination of funding from the European Social Fund, European Regional Development Fund and elements of the European Agricultural Fund for Rural Development will be allocated at local level to drive smart, sustainable and inclusive growth.
Max. Value: £ 50,000
Deadline: 31 Jul 2019
Grants are available to help community organisations identify, improve and protect community spaces in England where people can connect and co-operate.
Max. Value: £ 5,000
Deadline: 31 Jul 2019
Grants are available to small-scale, locally-based charitable initiatives in the UK in the following areas: isolated children and young people; prisoners and ex-offenders; disadvantaged women; disability; arts outreach; and community cohesion among minority groups.
A grant to support schools facing unexpected or imminent failure. Applications can be made for short-term support while a longer-term sustainable solution is developed, for example through the support of a new academy sponsor.
Applications can also be made for longer-term whole school support where no other sustainable solution can be found to address the school failure.
Applications can be submitted at any time.To make an application, email emergency.fund@education.gov.uk for an application form.
Lush Presents: MK Green Fest
Campbell Park
Saturday, 3 August 2019 from 12:00 to 21:00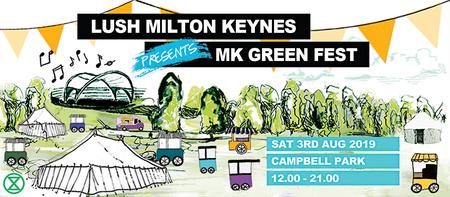 A community festival bringing together those who want to share, learn and explore all that is sustainable, plastic free and eco friendly.
Register here
Charity Fun Day
Capron, top field Beanhill
Sat, August 3, 2019 11:00 AM – 3:00 PM
Charity Fun Day to raise money for Help our Homeless MK and MK Play Rangers. Live music from local artists, raffles, tombola, cake sale, balloon making, face painting, water fight, arts&crafts, stalls and many more!!
Garden Gathering with Live Music @ MK SNAP
MK Snap
Fri, 2 August 2019 18:30 – 21:30
Register here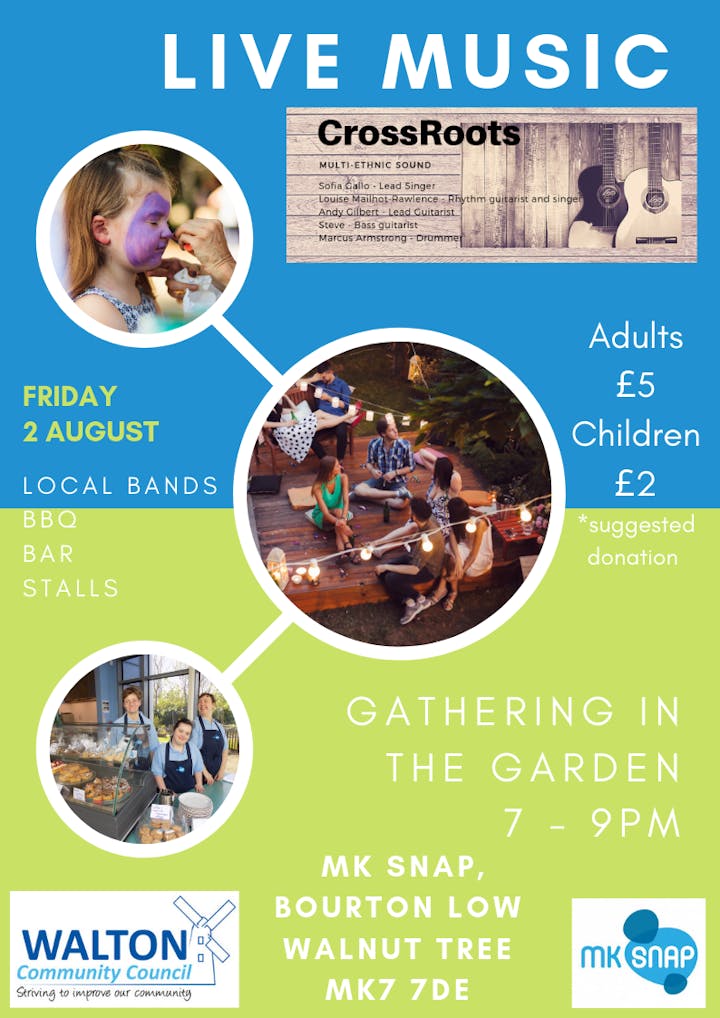 Wildlife Trust Nature Detective and Craft Activity
Thursday 8 August 10.30 – 11.30
Centrecom Meeting Place 602 North Row, Milton Keynes, MK9 3BJ
Register here
Join Kate from The Wildlife Trust and Sue, CMK Council Community Mobiliser, to learn some top tips on how to be a nature detective, along with a wildlife craft activity. Also find out how you can get involved in gardening work in the green space next to Centrecom, N1th and N12th Street and The South Row area. .
Cinema at the Sky Room: This Week
MK Gallery is partnering with Curzon Cinemas to bring audiences in Milton Keynes the very best independent film programme, from art house films to classic movies.
Find out more and book here
Service Six Family Fun Day
Saturday 31stAugust, 12-4
Chapter House, Coffee Hall
On Saturday 31st August Service Six will be holding a family fun day at our base Chapter House, Coffee Hall. The event is 12-4, we will have a bouncy castle, low cost bbq, tomobola, raffle, games, a number of Harley Davidsons, Police Car and a range of stalls. If you would like to have a promotional stall or even if you just want to come and lend a hand we would be grateful of the support.
Contact Katie Marsh for more info: katie.marsh@servicesix.co.uk