Volunteers' Week 2021 Resources

Her Majesty's Lord-Lieutenant of Buckinghamshire, The Countess Howe has prepared a video of thanks for our dedicated volunteers. Watch it here.
MK CIL have been awarded the Queen's Award for Voluntary Service! (QAVS)
It is with great pride and pleasure that we can announce that we have been awarded the Queen's Award for Voluntary Service (QAVS), the MBE for Voluntary groups, in this year's Birthday Honours list.
This has been presented for our many years of dedicated support to the Disabled community in Milton Keynes and the surrounding area. We have also been awarded a special commendation for the extra support we have provided during the pandemic.
Such an award cannot of course have been achieved without the considerable input of many individuals over the years and our thanks go to all involved since our inception in 1991 to the present day.
– Ernie Boddington, Chair MK CIL

YiS Young People's Mental Health
YiS currently has over 30 volunteers who help us deliver on our charitable objectives and are dedicated to helping young people improve their lives or help them find ways of moving on from trauma. Our volunteers include qualified counsellors, trainee counsellors, young wellbeing champions and trustees to provide governance and oversight.
In the last year, we have focussed on involving more young people in the work and activities of our charity and recruited and trained 5 Young Adults as Wellbeing Champions who help us run mental health and wellbeing campaigns throughout the year. Our champions bring a fresh perspective, energy and enthusiasm along with new ideas on how we can reach more young people. Their input into the work that we do is wonderful and vital.
Spectrum Community Arts
Spectrum Community Arts provides performing arts workshops for people with disabilities and additional needs. We are passionate about using performing arts to help develop the self-esteem, self-expression and social skills of all of our participants. Without the generosity of our volunteers, Spectrum classes would simply not be able to run and many of our participants wouldn't be able to access the performing arts outside the education!
We would like to take this opportunity to say a big THANK YOU to all our volunteers who selflessly give up their time and bring big smiles, lots of laughs and an abundance of encouragement to every session. They truly do make a big difference!
Even whilst our in-person classes were not able to run, our volunteers still made time to come along to virtual sessions so our participants could see their familiar faces, they helped run quiz nights for participants could see familiar faces – they helped run quiz nights for participants and their families and gave a lot of love and support to Spectrum and our community.
So to celebrate our 'Family of Volunteers' we are holding a Covid-19 secure BBQ during volunteer's week! We are so excited to show our appreciation and to see them in person for the first time in over a year will be fantastic! We will also be posting on our Facebook and Instagram page everyday celebrating our volunteers and making sure they know how much they mean to us and our participants!
As a thank you to volunteers, we have been in contact with Bradwell Abbey, who are offering FREE tours of Bradwell Abbey medieval chapel from 7th June. If you are interested, please contact Director@mkcdc.org.uk.
As an extra thank you, we want to remind you that as a volunteer, you can sign up for free to obtain discounts and cashback offers from a selection of brands and businesses here: Charity Worker Discounts
'I volunteer as a wellbeing champion because I have a passion for raising awareness and teaching others about the importance of mental health and YiS is an incredible resource to do so' – El, Wellbeing Champion
'I love everything the charity stands for and the people involved are so wonderful. I think the work they do is so important and it feels like it's the kind of work I belong with' – YiS Volunteer Counsellor
'I have a better understanding of a homeless person and their mental health … I have been doing some courses to help me develop my understanding and gain the knowledge to support homeless guests.
To me my job is very rewarding. Not only do I support and give advice but to see that someone that comes in on a low to leaving feeling feeling relieved is just priceless.
… I am able to assist the support the guests truly require … and support their needs when entering the door to them going away a far happier person.' – Volunteer, Winter Night Shelter
Covid-19 Volunteers
We asked …
What was the best thing about your volunteering experience?
'Being able to support underprivileged community in times of great need'
'Meeting people and helping the community'
'Interacting with different people/meeting new people. Knowing that you're helping out too is very rewarding.'
'Feeling that I was being useful and able to support those more vulnerable.'
'Meeting new people and being able to make a small contribution towards helping other people.'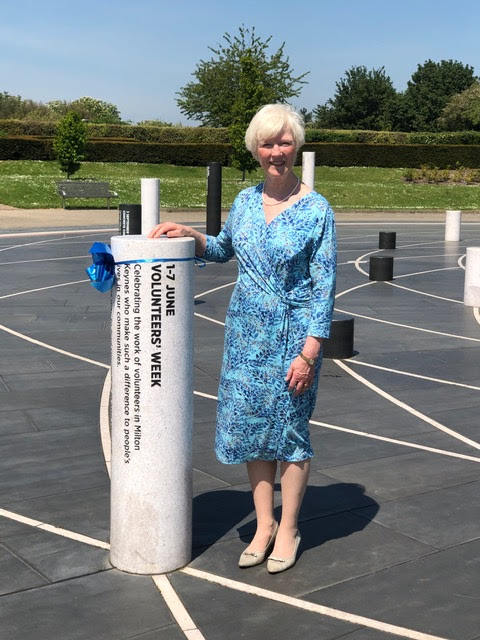 Her Majesty's Lord-Lieutenant of Buckinghamshire, The Countess Howe, celebrated Volunteers' Week by tying her own blue ribbon around the MK Rose Volunteers' Week Pillar!

This will also be followed by an event on 21st June at MK Rose. Watch this space for more details!
Do you need volunteers?
We get quite a few individuals contacting us looking for volunteering roles! Voluntary organisations throughout Milton Keynes can register their volunteering roles with us through out Do-it platform. This is free and enables organisations to get in touch with individuals and vice versa! As organisations are adapting services during the pandemic, now is as good a time as any to register your opportunities on our Community Action: MK Do-it platform! Click the button below to register!
Are you looking to volunteer?
Organisations get in contact with us to promote their volunteering roles, or to ask for help supporting them to find the best way to get those volunteering opportunities known. On our Do-it volunteering platform, if you are looking to volunteer, you can sign up and browse through the variety of roles that are advertised at your leisure. There are also additional articles and helpful resources to look through to help you choose the best role suited for you. Click the button below to register and find out more!
Volunteer Activities Assistant / Befriender | Abbeyfield
Befriender – This role will involve spending time with a resident one to one offering company and friendship, chatting with them and sharing interests. It may involve visiting the home or taking them out to the shops or for a coffee.
Activities Assistant – To create and run activities and organise outings for our residents that have a positive impact on their wellbeing. Activities in the home may include Card and Board games or Film and music groups. This role could also involve organising external activities such as social outings and trips for the residents.Read more about the roles here.
Witness Service Volunteers | Citizens Advice Witness Service
The Witness Service provides practical and emotional support and information to witnesses so that they feel valued, respected and informed and able to give their best evidence in court. The role is court based and will involve providing support to witnesses, and their supporters, by explaining the court procedures and legal terminology, showing them around the courtroom before trial and sitting in the courtroom with them, when permitted. Read more about the role here.
Volunteer Hosts | Depaul UK
Depaul UK urgently looking for volunteers to host young people in Milton Keynes. National youth homelessness charity Depaul UK, have this week launched Nightstop Milton Keynes and are urgently looking for local volunteers to support the initiative. Contact nightstop.mk@depaulcharity.org.uk. Read more about the role here.
Sign up to an upcoming information session by clicking the links below:
Wednesday 23rd June | 6pm – 7pm
Thursday 8th July | 12pm – 1pm
Monday 19th July | 6pm – 7pm
Hospital navigator scheme | YMCA MK
YMCA Milton Keynes is looking to build a team of volunteers to support the development of a new hospital-based violence intervention scheme at Milton Keynes University Hospital (MKUH). Volunteers will act as navigators to young people who are experiencing trauma or have been affected by serious violence, helping them to access local services and agencies to gain the support they need. Read more about the role here.
Vaccination Volunteers | Communities 1st
Can you help at the vaccination centres at Saxon Court? More volunteers are needed to undertake a range of roles, including:
Car park stewards – outdoor and on foot. Warm clothes necessary (also waterproof when rain is forecast).
Front of House – meeting and greeting patients to check they have appointments and ensuring the flow of patients though the centre (mainly indoors, but can be outdoors).
Volunteers should be able to offer to undertake a minimum of 4-hour shifts. Rotas are covering 8am to 8pm, 7 days per week. Appropriate training, supervision and PPE will be provided to ensure the safety of staff, volunteers and patients. If you are interested in volunteering, visit their website to find out more and to register.
YiS Volunteers
Have you been searching for ways to support a local charity? Are you passionate about raising awareness of the importance of mental health? Are you passionate about improving the wellbeing of young people? If this sounds like you, then you might be interested in volunteering for YiS!
YiS Volunteers are those who wish to join us throughout the year for big or small activities, projects, events, and overall education support. Previous opportunities include, but are not limited to, Event Ambassadors, Event Coordinators, Project Leads, Social Media Content Creators, Street Fundraisers, Outreach Attendants, and many more. Contact charlotte@mkyis.org.uk
We also advertise volunteering roles through our weekly news bulletin. Click the button below to sign up to our mailing list so you don't miss out!